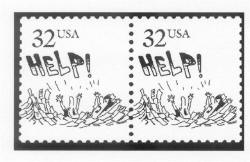 I Inherited a Stamp Collection,
Now What?
by Charles F. Myers
Fourth Edition
This book started in 1995 when I inherited a rather large stamp collection from my mother, Ruth Myers, and my aunt, Julie Whaley. Actually, it was really four or five collections, because mom and Aunt Julie had inherited albums from other people. I had collected a few USA stamps as a child, but I certainly wasn't prepared for what I inherited. I wrote this book in an effort to help others in the same situation in which I found myself.
This edition (the Fourth Edition) was issued in 2011 and is available for you to read in its entirety, for free, on this web site. The book consists of 27 chapters to help you make sense of a stamp collection you might have inherited.
It also gives you some tips on options you have in dealing with the collection (e.g., selling the stamps, using the stamps as postage, giving the collection away, etc.). It is not necessary to read the entire book; not everyone will be interested in every chapter. The first few sentences of each chapter tell you who might benefit from reading or skimming the chapter. I hope this books helps!
There is no charge to read this book online. If you like, you have my permission to print out a copy for your personal use. Please keep in mind, however, that I revise and update this online version from time to time. If you print out a copy, you'll miss all the changes.
Libraries have my permission to print out one copy (or several copies) of the book to put in circulation. Again, please keep in mind that the book changes from time to time. Once you've printed a copy, you won't see the latest changes.
Book Chapters and Sections
You do not need to read the table of contents. You might take a minute to skim over the topics to see what we'll be covering. You can always come back to this page if you are looking for something in particular.
Chapter 1 Introduction
Chapter 2 Definitions & Abbreviations


2.1 Definitions


2.2 Stamp-related Abbreviations
Chapter 3 Centering & Condition


3.1 Overall Condition of Your Stamp Collection


3.2 Conditions of Individual Stamps


3.3 Centering


3.4 Cancels
Chapter 4 Help from the National Philatelic Organizations


4.1 Collector was an APS or an ATA Member


4.2 Non APS or ATA Members
Chapter 5 Evaluating What You've Got


5.1 A Quick Inventory


5.2 Overall Value of Your Collection


5.3 High, Medium or Low?


5.4 General Rules of Thumb about Stamp Prices


5.5 The "Ignore-These-for-Now" Items
Chapter 6 Basic Choices
Chapter 7 Giving The Collection Away
Chapter 8 Selling Material To a Local Dealer


8.1 General Issues


8.2 The Stereotypical Local Stamp Dealer


8.3 Reasons to Go to a Stamp Dealer


8.4 Selling Certain Items


8.5 Other Options


8.6 What a Dealer Wants to See
Chapter 9 Selling Material to a Mail-Order Dealer
Chapter 10 Selling Material Through an Auction House


10.1 General Information


10.2 Private Treaties


10.3 Mail Sales
Chapter 11 Breaking Up an Album
Chapter 12 Stamp Shows


12.1 General Information


12.2 How to Find a Stamp Show


12.3 MNH USA Sheets, Booklets and Coils
Chapter 13 Stamp Clubs
Chapter 14 Using Stamps as Postage


14.1 Regular Stamps


14.2 "Odd" Stamps


14. 3 Stamped Envelopes and Postal Cards


14.4 Non-denominated Stamps
Chapter 15 Selling on The Internet


15.1 General Information


15.2 Messages that Work and Ones that Don't


15.3 Getting Money from Overseas
Chapter 16 APS Circuit Books


16.1 General Information


16.2 Strategy Tips for Selling Stamps in Circuit Books


16.3 Tips
Chapter 17 Non-traditional Uses of Stamps
Chapter 18 Getting an Appraisal


18.1 Formal Appraisals


18.2 Informal Appraisals
Chapter 19 Storing Stamps/Handling Stamps
Chapter 20 Stamp Insurance
Chapter 21 Mailing Stamps


21.1 General Information


21.2 Other Considerations
Chapter 22 Using and Understanding a Scott Catalogue


22.1 General Notes


22.2 How Stamps Are Organized in the Scott Catalog


22.3 Pictures of Stamps


22.4 Miscellaneous Information About the Stamp


22.5 Catalog Values
Chapter 23 Stamp Expertization


23.1 General Information


23.2 Where Do Fakes Come From?
Chapter 24 Forms and Such
Chapter 25 Supplies, Newspapers and Books


25.1 Books and Newspapers


25.2 Stamp Supplies


25.3 Shipping/Mailing Supplies
Chapter 26 Do's and Don'ts of Stamp Collecting
Chapter 27 Worksheet for Stamp Collectors

Click arrow to go to Chapter 1.